Business Aviation is the use of general aviation aircraft for business purposes. The business aviation market is fragmented. There are hundreds of companies providing business flight services in the U.S., most of which has less than 1% of market share. NetJets is no doubt the market leader. But behind that, even who is the No. 2 is arguable. Let's speak with data. We collected all flight activities tracked by FAA in July and August 2021, calculate block hours and estimate flight revenue by each carrier. Below are our rank list by number of flights, number of block hours and estimated revenue.
Market Share by Number of Flights
Business aircraft include helicopters, piston-powered propeller-driven airplanes and turbine-powered turboprops and turbojets. For our analysis, we only selected turbojets and some turboprops that compete with turbojets in the short-range markets. From July 1st, 2021 to August 31, 2021, FAA reports 313,216 flights by business aircraft, from very light jets like Cessna Citation Mustang to VIP airliner like Boeing BBJ and turboprop such as PC12 and King Air 350. NetJets, a subsidiary of Warren Buffett's Berkshire Hathaway, operated the most flights. It has an unbeatable 19.6% market share. The No. 2 to No.5 are Wheels Up, Flexjet, PlaneSense, and Vista Global, respectively.
Founded in 2013, Wheels Up grew fast with acquisitions. In FAA flight data, most Wheels Up's flights are still operated by its acquired carriers, including Gama Aviation, Delta Private Jets, TWC Aviation, and Mountain Aviation. In this article, we provide our ranking list by parent company, with one exception. Flexjet has a parent company – Directional Aviation, but we use FlexJet on our list for two reasons. First, Flexjet brand is more famous than its parent company. Second, Directional Aviation's other business are brokers, not carriers. PlaneSense is not an air charter provider or commercial air carrier. Its charter flights are arranged through its sister company, Cobalt Air. Vista Global is another company who wants to consolidate the fragmented business aviation market. Under this name, we include VistaJet, XOJET, Red Wing Aviation and Talon Air. Among those subsidiaries, XOJET is the largest.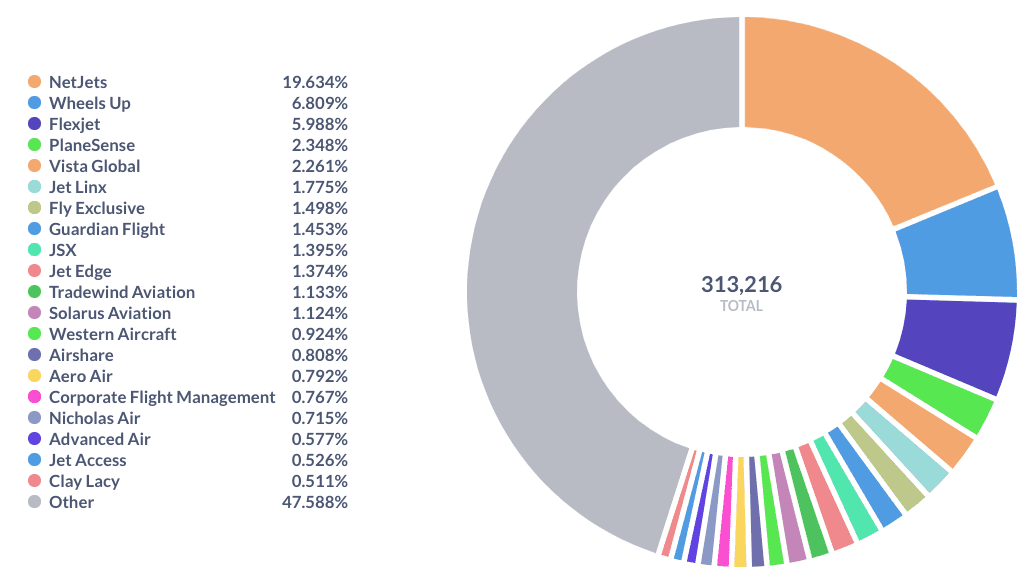 Market Share by Block Hours
The first ranking list is based on number of business flights. Some flights are coast to coast while others are within one state. Therefore, number of flights doesn't reflect all factors of business aviation activities. Furthermore, business flight services are charged by hours, either by flight time from wheels-up to wheels-down, or by block time including taxiing-in time and taxiing-out time. We picked block hour as the metric because the taxiing time does impact fuel burn and crew working hours besides charter price.
From July 1st to August 31, FAA reported 640,695 block hours in business aviation. On this new ranking list, top 5 are still NetJets, Wheels Up, Flexjet, Vista Global, PlaneSense, but their market shares have changed slightly. FlexJet's share increased from 6.0% by number of flights to 6.5% by block hours. The ranking of Vista Global and PlaneSense has also switched. That's because carriers use jets more often for longer distances. PlaneSense has 36 turboprop aircraft (Pilatus PC-12) and only 8 jets (4 PC-24 and 4 Nextant 400XT). As a result, its average length of haul is shorter than other pure jet operators, causing its rank decreased in terms of block hours. For the same reason, we seen pure jet operators such as Jet Edge and Clay Lacy advanced on the ranking list. For Jet Edge, also known as Western Air Charter, we included its recent acquisition – Jet Select.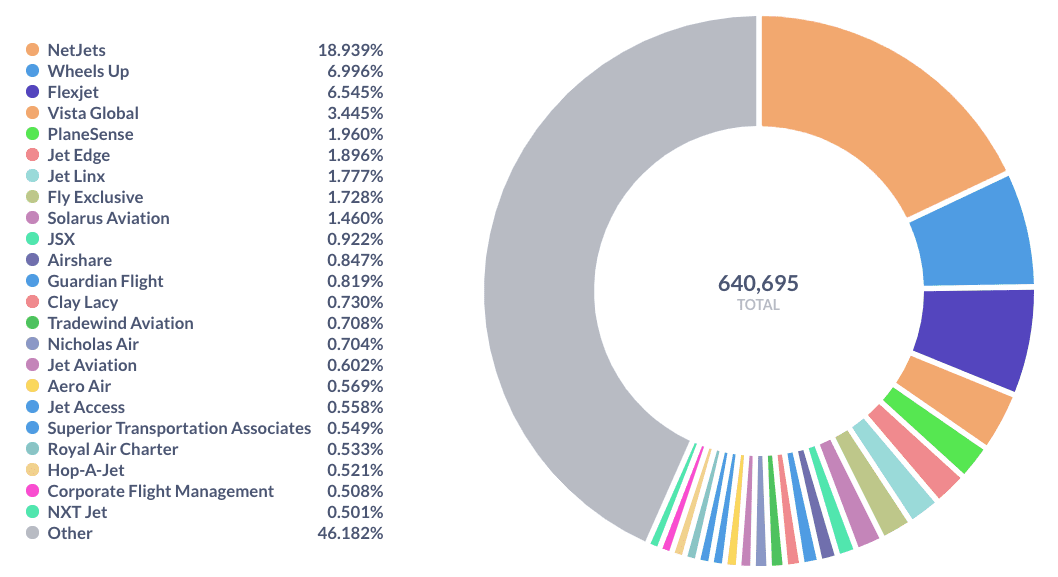 Market Share by Revenue
The ranking list by block hours considers flight distance or flight time. But we still miss an important factor – price. According to the private jet charter brokerage company, Paramount Business Jets, the cost to rent a private jet varies from $2,000 to $10,000 per billable hour. Many factors contribute to the price, including aircraft type, minimum flight hours per day, empty legs, overnight crew cost, landing fee, etc. But the most important factor is aircraft category. After categorizing all aircraft types into the following categories: Turboprops, Very Light Jets, Light Jets, Super Light Jets, Midsize Jets, Super Midsize Jets, Large Jets, Ultra Long Range Jets and VIP Airliners, we estimated revenue generated by different carriers from the business flights. Then, we have the final ranking list by revenue.
NetJets is still the No. 1, with 21.4% market share. Flexjet surpasses Wheels Up and becomes No. 2. That's because all of FlexJet's fleet are jets, including many large and ultra long range jets such as Gulfstream G450, Bombardier Global Express and Gulfstream G650. In contrast, Wheels Up inherited many King Air 350s, a turboprop aircraft, from its Gama Aviation Signature acquisition. Although Wheels Up had more total flight hours than FlexJet in this summer, FlexJet generated more revenue.
On this list, PlaneSense has dropped out of the top 10 because its primary aircraft type is a small turboprop aircraft – PC12. Jet Edge has moved into top 5, thanks to its Gulfstream jet offerings. Right behind it is Solairus Aviation, which was also known as Sunset Aviation.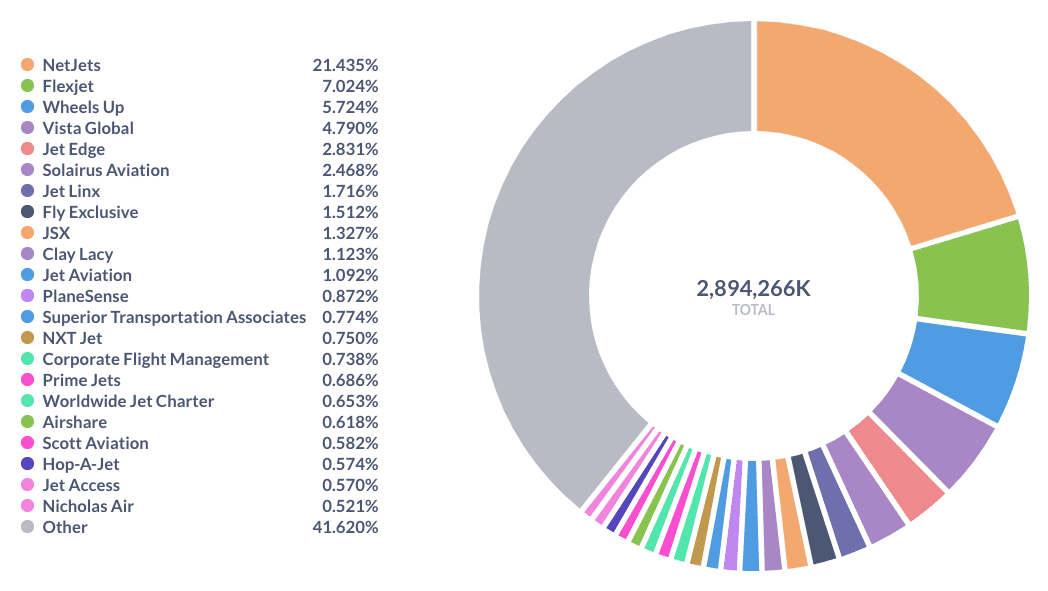 In this article, we provided three ways to rank the top companies in the U.S. business aviation industry. We think the last one by revenue is the best approach because it considers flight frequency, flight time and aircraft category. Based on this list, the top 10 players are NetJets, Flexjet, Wheels Up, Vista Global, Jet Edge, Solairus Aviation, Jet Linx, Fly Exclusive, JSX and Clay Lacy.
Data Source: FlightBI
Top Business Aviation Companies in the US