This week many news media forwarded good news from the TSA – US airport screenings on Thursday and Friday climbed above the 2019 level! Below are the specific numbers, which are confirmed by the TSA's Coronavirus information page. Hooray! We all want our normal life back. Let's open a bottle of Champagne to celebrate! But wait, I am afraid the numbers are misleading!
On Thursday, 2,147,090 people were screened, surpassing the 2,088,760 travelers on the same day in 2019
On Friday, 2,196,411 people were screened to travel, more than the 2,184,253 travelers on the same day in 2019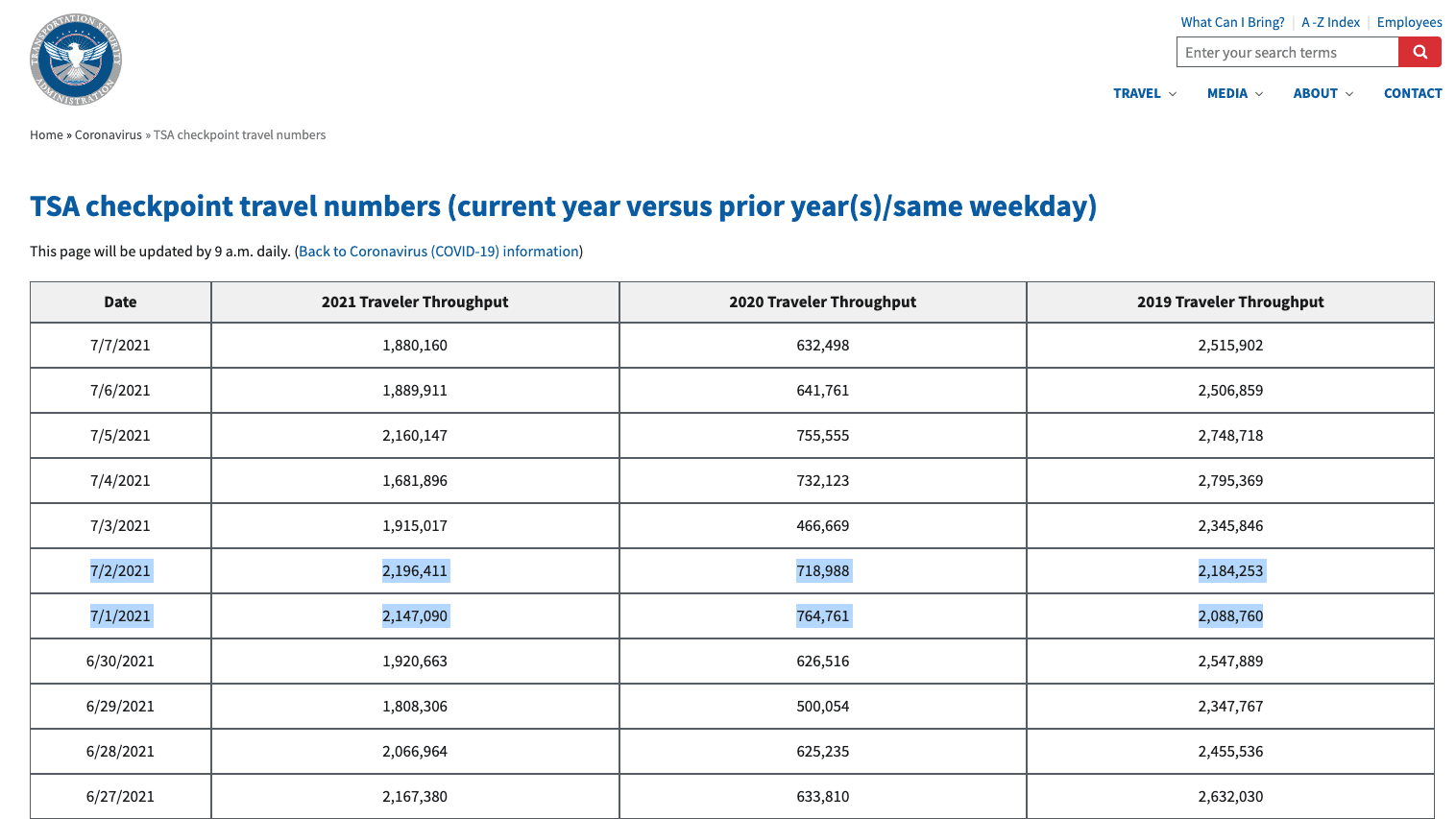 Above are the TSA checkpoint travel numbers (current year versus prior year(s)/same weekday). It is very easy for the readers to think numbers in the 2020 and 2019 columns are on the same date of the first column, when, in fact, they are not. The comparison is by the same weekday, not the same date. Actual traffic by date is shown in the chart below – the 2021 number almost touched the 2019 level on July 05, but it hasn't exceeded the pre-crisis daily records yet!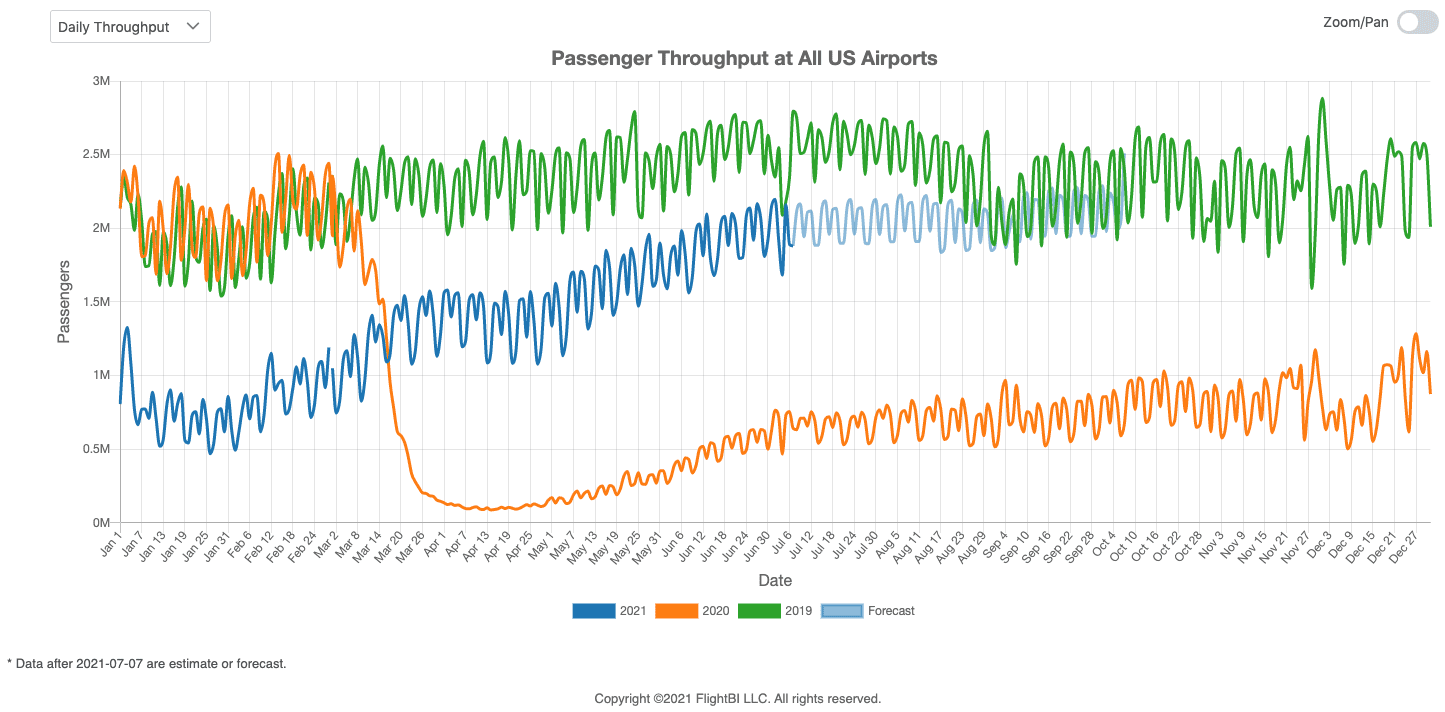 It makes a lot of sense for TSA to compare the same weekday because there is an obvious pattern of air traffic for different days of week. Leisure travelers like flying out on Friday or Saturday and returning on Sunday, while business people tend to fly out on Monday and return on Thursday or Friday. However, for July 4th – one of the biggest holidays in the U.S., the pattern is different. Many travelers fly out before the holiday and return after the long weekend. Not many people travel exactly on July 4th.
July 1st, 2021 is a Thursday and July 2nd, 2021 is a Friday. The counterpart Thursday and Friday in 2019 are July 4th and July 5th. Of course, it's easier to see traffic in two pre-holiday days surpass traffic in two days in the middle of a big holiday. To eliminate the weekday noise, we created the following chart with a 7-day average. Now you can see, the current airport throughput is still at about 85% of the 2019 level.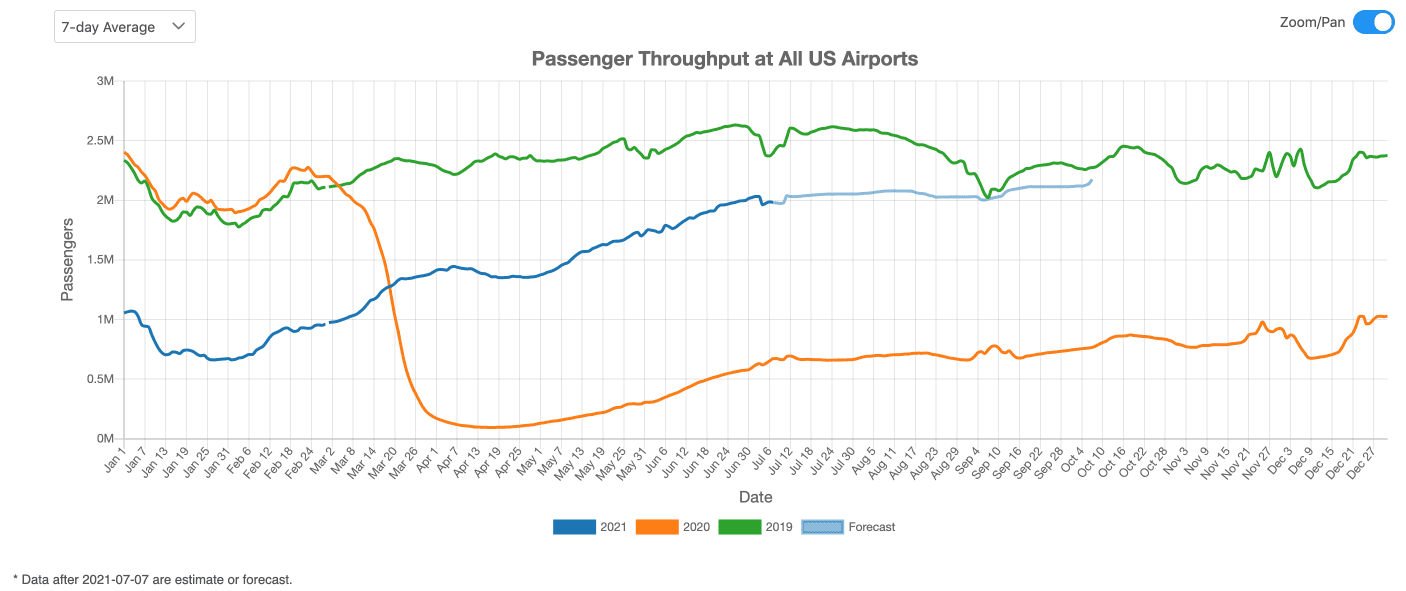 To summarize, it is probably not true to say the US airport throughput has exceeded the 2019 level. Nevertheless, our forecast shows that day may happen as soon as this September. Let's hope for the best!
Has US airport throughput exceeded the 2019 level?